The monopoly of foreign companies in the field of high-grade dispersants for pesticides has come to an end. On May 27th, the industrialization project for the special auxiliaries for pesticide carboxylate pesticides undertaken by Sinochem Chemical Science and Technology Research Institute passed the expert appraisal organized by China National Chemical Corporation. The GY-D01~D04 series of products developed by this project have formed a production capacity of 500 tons/year and have been promoted for use in a number of environmentally friendly pesticide products. The successful development of polymer carboxylates means that the development of special pesticides for pesticides in China is beginning to accelerate.

At present, the results of this project have applied for two national invention patents. Now it has developed and produced a series of carboxylic acid salt dispersants, two liquid products and two solid products. In addition to the establishment of a 500-ton/year carboxylate dispersant production facility, the researchers also conducted research on the application of new special additives in pesticide environmental protection formulations, and developed a number of environmentally friendly pesticide product formulations and special additives. Compared with similar foreign products, the newly developed carboxylic acid salt dispersant has obvious cost-effectiveness, its performance is comparable to that of foreign products, and its selling price is 30% lower than similar foreign products. At present, the price of imported solid carboxylate dispersants exceeds 85,000 yuan/ton, and the newly-developed carboxylate salt price is only 60,000 yuan/ton, which can reduce the production costs of related domestic pesticides.

According to Dr. Zhang Zongqi of the China Chemical Industry Research Institute, researchers have solved a number of problems in the R&D process. They have achieved the goal of accurately controlling the molecular weight range of the product through the selection of initiators and dosages; Hydrophobic polymer surface treatment of carboxylic acid salt dispersant effectively solves the problem of moisture absorption of the product; using cis-type spray drying technology, the combination of tube dryer and solid material conveying equipment not only reduces the drying temperature, Solve the problem of product sintering, but also improve the drying efficiency.

Dr. Zhang Zongyi introduced that the economic benefits of the project are very significant. At present, the new dispersant GY-D series products have sold more than 70 tons, and they also provide technical services for more than 10 domestic processing companies, and realize sales and technical service income of more than 12 million yuan. After the project is expected to reach production capacity, it can increase sales revenue by 50 million yuan each year.

Cable Grip (also known as: Cable nets connector ,cable nets, nets, Cable grip puller ,wire mesh cover, middle anchor net, network, cable network, optical fiber net, ground net set) .

1.With flexibility ,moderate softness,high elasticity,wear resistance,corrosion resistance,closely mesh,the cable can easily set into the open mouth,passing the bend easily,will not hurt the cable,durable.

2.Using Swedish ALURIT hydraulic press to press at the pressure point of cable nets,smooth appearance,large tensile load strength.

3.The material can be hot dip galvanized high strength steel wire rope ,304,316 or 316L.Cable grip using composite weaving method of single strand,double strand,three strands or multi-strand multilayer.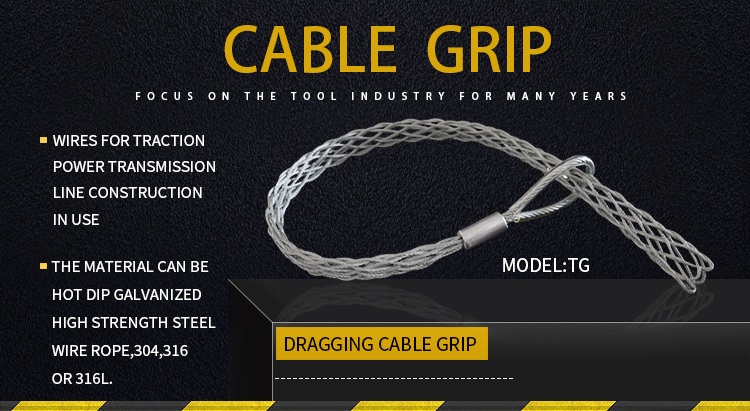 Cable Grip Application:

electric power construction steel connection when all kinds of aluminium conductor and insulation wire, ground wire, optical fiber, optical cable, cable, can pass the all kinds of steel block, with light weight tensile load is big, not line loss, convenient use, is the most ideal tool in electric power construction.




Cable Grip Specifications:
Model

Size Range

(mm)

Mesh Length

(mm)

Total Length

(mm)

Breaking

(KN)

Strength

(KG)

TGK-18

13-18

540

766

19.6

2000

TGK-25

18-25

800

1020

24.5

2500

TGK-37

25-37

850

1140

34.3

3500

TGK-50

37-50

900

1194

58.8

6000

TGK-63

50-63

920

1220

78.4

8000

TGK-75

63-75

920

1220

78.4

8000

TGK-88

75-88

920

1270

88.2

9000

TGK-101

88-101

1100

1420

107.8

11000

TGK-114

101-114

1200

1560

117.6

12000

TGK-127

115-127

1350

1750

132.3

13500

TGK-152

124-152

1500

1960

147

15000

TGK-180

153-180

1850

2300

196

20000

TGK-230

180-230

1950

2300

196

20000

TGK-280

230-280

2000

2350

196

20000

TGK-320

280-320

2200

2450

196

20000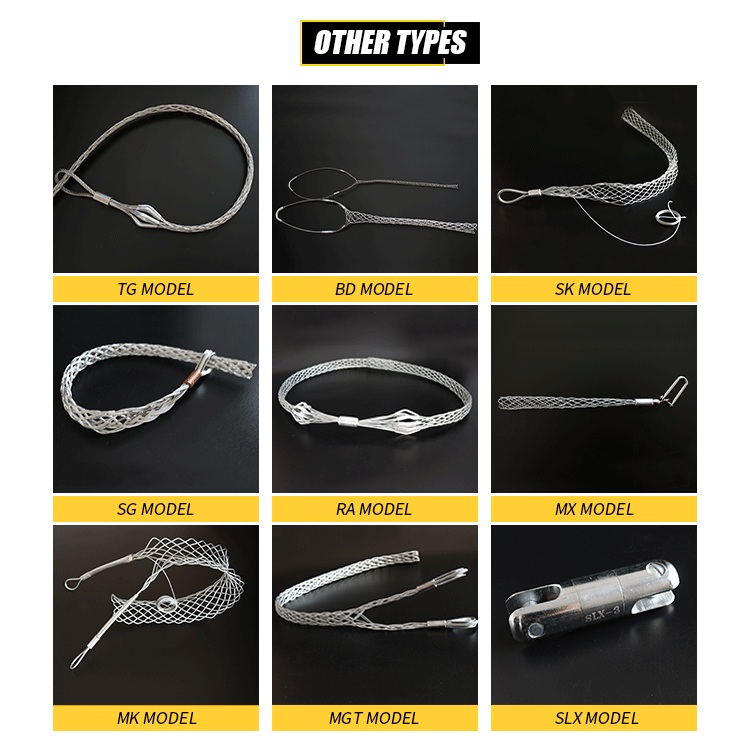 Cable Grip

Cable Grip,Cable Grippers,Cable Grips Wire Rope,Cable Clamp,Wire Mesh Grip

Hebei Long Zhuo Trade Co., Ltd. , https://www.hblongzhuo.com